Aimer Products Limited
Unit 6 Plaza Business Centre
Brimsdown
Enfield
EN3 7PH
United Kingdom
Tel: +44 (0) 20 8804 8282
Fax: +44 (0) 20 8804 8821

Email: sales@aimer.co.uk






Conturax Pro Glass Tubing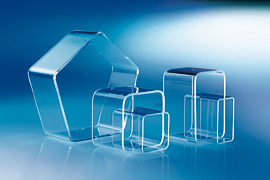 We sell a range of Schott's Conturax Pro non-round tubing, made from Duran borosilicate glass.
Manufactured using Schott's patented continuous direct drawing process, Conturax Pro is of uniform high quality.
We can polish the edges and drill holes, or manipulate by flame and produce bespoke items to your
specific requirements.
Profile 085
Profile 086
Profile 089
Dimensions (mm)
W 44.50 / WT 1.40
W 67.80 / WT 2.75
H 32.40 / W 86.50 / WT 2.75
H 58.00 / W 86.50 / WT 2.75

H 132.70 / W 138.80 / WT 2.75


To order or enquire:
+44 (0)208 804 8282 or email sales@aimer.co.uk